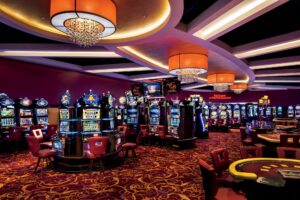 In the country that has developed into a major outbreak of the virus, gambling companies encourage players from our country to travel to Gevgelija
By sending mass sms to Greek citizens
Skopje casinos invite them to travel there, emphasizing that they will help them fill out the necessary form. Casino Flamingo in Gevgelija has already sent massive direct sms to its customers from Greece, urging them to travel and cross the borders of Evzoni that are open. And this is happening at a time when our neighboring countries in the Balkans, such as Albania, Northern Macedonia and Bulgaria, have become major outbreaks of uncontrolled coronavirus outbreaks.
Visit Stoiximan Casino
It is therefore reasonable to worry about the "introduction" of cases in the border areas of our country by our compatriots who after walking for shopping end up in the "temples" of gambling on the other side of the border, especially in the area of ​​Gevgelija in Skopje. This is the reason why, albeit with a relative delay, the government took some stricter measures at the borders and at the border stations a few days ago, forcing the ... fearless of the hundreds of new cases and deaths on a daily basis, to complete and submit electronically responsible statement to gov.gr for each exit and return.
In fact, this statement, as unbelievable as it sounds, is willing to help them complete one of the casinos in Skopje, as he informs them by sms! It is therefore questionable why there are no mandatory tests for all those who come and go abroad every three or so and why they do not enter quarantine.
See the sms:
Source: protothema.gr