Bayern Munich are 1.5 feet in the next phase after their imposing 3-0 draw in London, a qualifying step for Kike Setien's Barcelona, ​​who have been unbeaten in Italy and have managed to score.
Of course, the impressions were stolen by the Bavarians. Strong looks, even at 0-0, showed that they are one class above their rivals. Gnambry within three 'gave up two goals early in the second half, while Levadovsky completed the triumph in 3'.
His program Champions League continues with two fights. It is only logical that the look falls on the game of Madrid, where Real welcomes Manchester City. But the contrast between Lyon and Juventus is also interesting. Your Infobeto is ready betting analysis and suggestions.
Real Madrid - Manchester City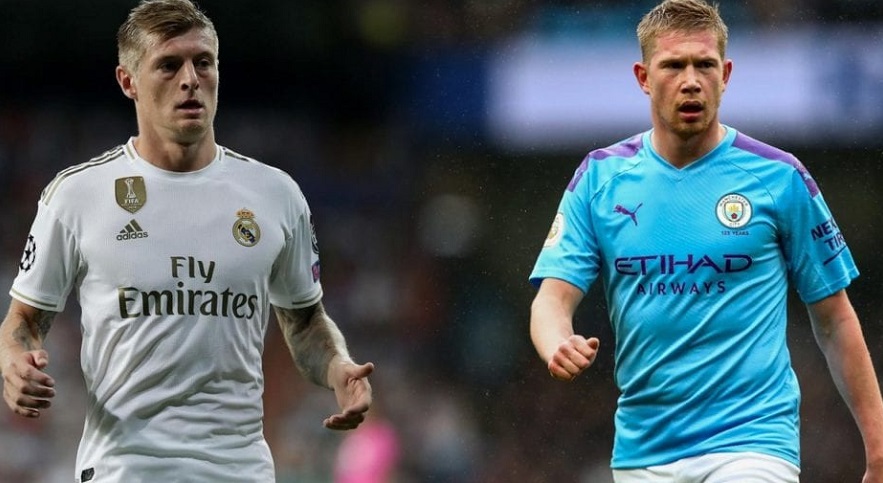 *Tradition: They have faced only four times, with Real Madrid dominating the two (both at the Bernabeu) and the other two ending in a draw.
Two unexpected ghouls in recent racing crash from La Liga top Zidane's team. First, 2-2 at home against Celta and then a 1-0 defeat at Levante's home base last Saturday. In the midst of it all, the clasico has to think about next Sunday.
It is not only the negative results, but that she is deeply concerned with her performance, where she has shown that she has found a rhythm and is molding (as she has won the trophy every 4/6 years) at the right time.
In the groups, the Queen of Europe was easily qualified, although at the end of 6 games against PSP, Club Bruges and Galatasaray found her in the second place with 2 points (11-3-2). Her only defeat in Paris was 1-3, while the highlights included 0-6 against the Turks. All three of her home games had several goals (over0).
Real Madrid Eleven (4-4-2): Curtua - Carvahal, Varan, Sergio Ramos, Medi - Valverde, Casemiro, Montrich Croos - Bale, Benzema
Manchester City comes from a good / professional appearance at Leicester headquarters, where it dominated 1-0 with Zesus in the 80 '. She had opportunities to relieve stress earlier. The league runs a 6-1-1 series, but it doesn't remind much of last year's team, which is also reflected in the -22 which is away from the top and Liverpool.
In the group, Guardiola's team qualified as the first and undefeated (4-2-0), in a fairly strong group with opponents Atalanta, Shakhtar and Dinamo Zagreb. Note that he had one of the best attacks with 16 goals and the second best defense in the group with just 2 passive goals (the first of the PSP with just 4).
Man's Eleven City (4-3-3): Anderson, Walker, Fernandinho, Laport, Zincenko - David Silva, Rodri, De Broin - Mahrez, Aguero, Bernardo Silva
Bet Prediction for Real Madrid - Manchester City
Real Madrid have been worried about their last few appearances in the league, but usually teams of this level appear to have suddenly improved in such big competitions. So we expect a different Real Madrid today. It is worth mentioning that the ace opened as a favorite on betting and now he is playing at an outsider. The truth is that this year's Manchester City are not well respected and we believe that at an outsized price it is worth betting on the Queen of Europe, who has a tradition of her own. At 2.81 the ace at Pamestoixima.gr also covers with 1DNB being offered at 1.95 of the same bet.
Lyon - Juventus
Lyon made the surprise by throwing out the most experienced Zenit St. Petersburg and Benfica. This in itself is an excess for the French, who among other things claim the exit to Europe through the championship but also two trophies (Cup & League Cup).
In the domestic competitions he was defeated only once in the 5 most recent and this one at the headquarters of the strong PPP, leaving good impressions (2-4). In her most recent game, she won 2-0 at the Mets headquarters with a professional appearance. However, it does come up with a particularly burdensome program that has "side effects" in its performance.
Lyon's Decade (4-3-3): Cows - Tete, Denier, Marcelo, Marsal - Mints, Bruno Guimaraes, Auar - Corne, Toko Ekabi, Debel
Juventus made its debt to the weak SPAL headquarters by beating 2-1. Sari used key, as the Serie A battle for the 1st place has burst for good, with Lazio at -1.
Second win for Big Lady but against fierce opponents (Brescia-SPAL). It is worth noting that the win at SPAL was the first in its last 1 away games, with Juventus losing to Verona (4-2) and Napoli (1-2) and coming to draw with AC Milan. (1-1) for the Cup. Home away from home 13 goals / goal in its last 15 games in all institutions.
Mauritius Sari is in a difficult position, with reports from Italy wanting to play his head in games with Lyon and Inter. However, the chairman of the group said he was pleased with his work and gave him (in essence) support.
Juventus eleven (4-3-3): Cesni - Danilo, Bonucci, De Licht, Alex Sandro - Ramsay, Pianic, Matuidi - Quadrado, Dibala, Ronaldo
Betting Predictor for Lyon - Juventus
Both have midfielders capable of scoring at least once, while defenses have weaknesses. Indeed, the statistics of our away games in Juventus ... shows the way. The goal / goal is priced at 1.95 at Bet365 and is an option.